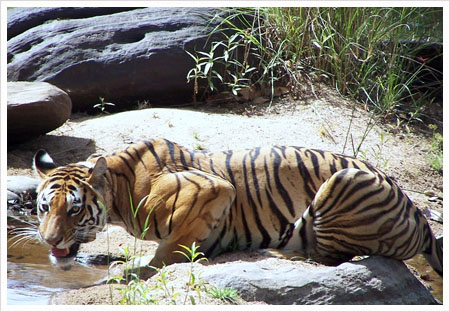 Panna National Park (Madhya Pradesh)
The beautiful landscape of Panna National Park extends across an area of well over 500 square kilometres of the Vindhya Hill rangeand features mixed dry deciduous forest, grassland, gorges and waterfalls.The area was declared a tiger reserve in 1994 and forms a significant part of the catchment area of the Ken River,which runs northeast through the parkfor about 70 km.
In addition to tiger, notable species include leopard, sloth bear, marsh mugger crocodile and the rare chinkara gazelle. Panna is famed for its variety of birdlife with over 200 species having been recorded, including bar headed goose, king vulture and blossom-headed parakeet.