Kanha National Park (Madhya Pradesh)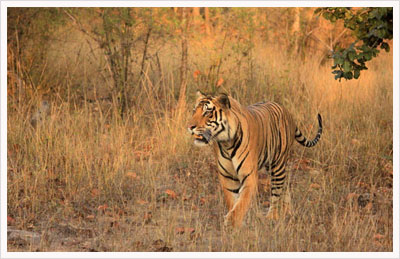 Established in 1955 Kanha National Park today extends over a core area of 940 km², which together with a surrounding buffer zone of 1,067 km² and the neighboring 110 km² of the Phen Sanctuary makes it the largest national park in Central India. However the lush forest, grassy meadows and ravines of Kanha were noted features long before the creation of the park and the area is recognised as being the inspiration for Kipling's Jungle Book.

Kanha National Park is a haven to 1000 or more species of flowering plants. The lowland forest is a mixture of sal and other forest trees, interspersed with meadows that were once the fields of now abandoned villages. In the upland regions the jungle is very different with deciduous trees and bamboo on the slopes.
Kanha National Park has a significant population of tiger, leopard, Indian wild dog (dhole), jungle cat, fox and jackal. The open grasslands of Kanha are particularly important for the survival of a unique sub species of barasingha (swamp deer). Indian gaur, chital, sambar and barking deer are regularly seen in the park. Black buck have been reintroduced recently within a fenced area. Common langur and Indian wild pig are much in evidence.

As can be expected a wide variety of bird species are present in Kanha including black-shouldered kite, crested serpent eagle, vultures, the beautiful Indian roller, both red and the rarer yellow wattled lapwing, several species of drongo including the magnificent greater racket tail are just a selection with many more to be found.